How To Plan Your First Visit To Acadia National Park
How To Plan Your First Visit To Acadia National Park
Acadia National Park should definitely be on your list of National Parks to visit. National Parks in and of themselves are always beautiful places and Acadia is no exception.
One unique feature of Acadia is that it is located on the Atlantic Ocean, which only adds to its beauty. This provides for amazing ocean views, diverse wildlife, and even a gorgeous little beach nestled between the mountains and rocky shore.
Acadia offers an abundance of attractions including granite mountain peaks, spruce-fir-hemlock forests, wetlands, and 64 miles of coastline.  
Some of the links below are affiliate links.  As an Amazon Associate we will earn a commission from qualifying purchases if you decide to make a purchase through our link, at no additional cost to you.
5 Fun Facts About Acadia National Park:
1.Acadia was made a national park on February 26, 1919. It is the only national park in New England and was the first national park to be created east of the Mississippi River.
2. The park is just under 50,000 acres in size making it one of the smallest national parks in the United States. Although small, it is one of the most popular, attracting 3 million visitors annually.
3. Acadia National Park was created from land donations from private individuals such as George B Dorr and Charles W. Eliot. John D. Rockefeller donated 11,000 acres of land and also built over 40 miles of the infamous carriage roads within the park, preserving the natural beauty of the land.
4. Standing at 1,530 feet, Cadillac Mountain is the tallest mountain on the East Coast. It is the first place that the sun rises in the eastern U.S. between the months of early October and early March.
5. Acadia National Park is home to 26 mountains and 150 miles of trails.
Getting around Acadia National Park – Can I Drive an RV or trailer?
There are oversized vehicle restrictions within the park which you can view HERE.
Parking with a large RV would be difficult at trailheads. Parking lots can be busy and congested, so maneuvering an RV may not be easy.
Stopping to take in the view or visit some park attractions would be easiest on the one way roads in the park that allow anyone to pull over in the right hand lane to park (look for signs to make sure you are in the right zone to do this).
Driving an RV in Bar Harbor could be difficult, depending on the size of your vehicle, due to tight roads and cars parked on both sides of the road. But there is RV parking that can be found south of town, on Route 3 by the athletic field.
Acadia National Park Weather / When is the best time to visit?
Coastal Maine's maritime climate means that there is a wide range of different weather conditions that you may encounter.
The coastal climate is similar to the Pacific Northwest in terms of annual precipitation. Rain is common at any time of the year.
The winters in Acadia will bring snow and ice storms. Fog is common in the summer months but the warmer temperatures more than make up for it during this time of year.
A great time to visit the park is in spring. There are no crowds so you get to experience the beautiful solitude. The one downfall is that the snow is melting and the grounds can be muddy.
A really good time to plan a visit (weather-wise) is early summer. But it is usually more busy during this time with the busiest months being midsummer – July and August.
The BEST time to visit – less people and still good weather – is in September during the two weeks after Labor Day just before leaf peeping begins.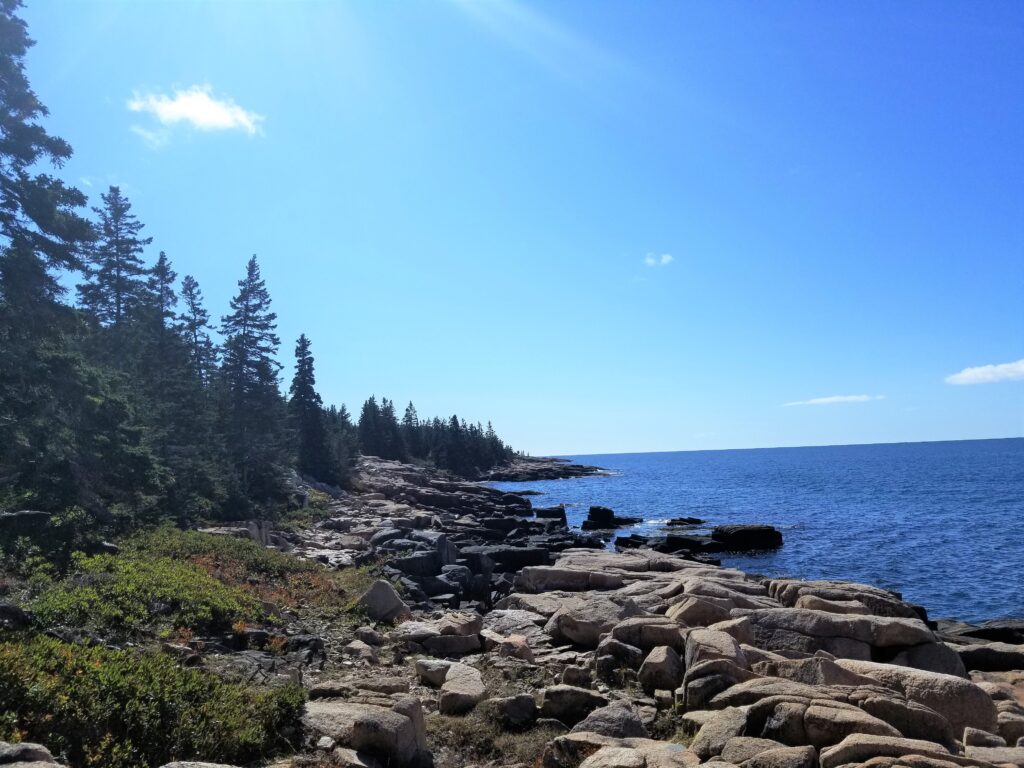 Acadia National Park in the Fall:
The average temperature in the fall is between 50-65 degrees during the day. The best time to see the fall colors is usually the beginning to mid October. The exact peak varies yearly depending on the weather so check before you make plans to visit the park to find out when the colors will peak.
Acadia National Park in the Winter:
The off season in Acadia is very cold and snow and ice are common. The average temperature during the winter months is between 15-35 degrees during the day.
Due to the weather and the lack of visitors, many places are closed during the winter months including campgrounds and some restaurants and attractions. The Loop Road also closes from December to mid-April (weather dependent).
Despite the unfavorable weather, wintertime is a beautiful time to visit if you enjoy snowshoeing, cross country skiing, snowmobiling, and ice fishing.
You can find details on winter activities in Acadia HERE.
Camping in Acadia National Park:
There are three main campgrounds in Acadia National Park. These include Blackwoods Campground, Seawall Campground, and Schoodic Woods Campground.
A fourth campground in the park is Duck Harbor Campground, which is located on the Isle au Haut and only accessible by mailboat at certain times of the year.
Blackwoods Campground:
Location: The east side of Mount Desert Island
Open: May to October (Check site for details)
Sites: 281 sites. Mostly for tent campers but some sites can accommodate RVs, trailers, and 5th wheels.
Camping Fees: $30 – tent, RV, trailer; $60 – Group campsite.
Amenities: 10 minute walk to the ocean, Flush toilets, running water, dump station, fire ring, picnic tables. No showers.
Cell Phone Reception: Minimal to none
Roads: Paved
RV/Trailer Max Length: 35 feet
Seawall Campground:
Location: On the west side of Mount Desert Island. Approximately 18 miles from Bar Harbor, Maine.
Open: May to October (Check site for details).
Sites: 202 sites
Camping Fees: $22 – walk in tent sites; $30 – drive up tent sites/RV/trailer; $60 – group tent sites.
Amenities: All sites are within a short walking distance of the coastline, running water, flush toilets, picnic tables, fire rings, dump station. No showers.
Cell Phone Reception: Minimal to none.
Roads: Paved
RV/Trailer Max Length: 20 feet
Schoodic Woods Campground:
** The Best Campground In Acadia National Park for Large RVs, Trailers, and 5th Wheels.
Location: On the Schoodic Peninsula – 1.5 miles southeast of Winter Harbor. Approximately 60-70 minutes from Bar Harbor and other attractions on Mount Desert Island.
Open: May to October (Check site for details).
Sites: 89 sites.
Camping Fees: $22 – walk in tent sites; $30 – drive up tent sites and small RV (20 amp); $36 – RV with electric only sites (20/30/50 amp); $40 – RV with electric and water (20/30/50 amp); $60 group tent sites.
Amenities: Running water, flush toilets, picnic tables, fire rings, dump station. No showers.
Cell Phone Reception: Fair to Good
Roads: Paved
RV/Trailer Max Length: 60 feet
Lodging and Accommodations Near Acadia:
If you are looking for lodging in the area two good places to look are the towns of Bar Harbor and Ellsworth.
Bar Harbor is a cute town made up of local shops and restaurants that line the picturesque main street. It is also situated on the water, giving it the quintessential New England coastal town feel.
In Bar Harbor, you will find the smaller, locally run hotels and B&Bs.
Ellsworth is located approximately 30 minutes from Acadia. It is here that you will find some of the more well known chain hotels but there are also B&Bs and smaller, locally run hotels/motels as well.
Don't forget to check out Airbnb where you just might find the perfect place to stay for your Maine vacation.
Camping outside of Acadia:
There are many different options for camping outside of the park if you are unable to secure a campsite in one of the main campgrounds.
A few options include:
1.Bar Harbor/Oceanside KOA
2. Lamoine State Park
3. Mount Desert Campground
4. Bar Harbor Campground
5. Smuggler's Den Campground
6. Timberland Acres RV Park
7. Mainstay Cottages and RV Park
8. West Bay Acadia RV Campground
Cadillac Mountain
The scenic summit road will take you to the top of Cadillac Mountain in Acadia National Park. This 3.5 mile winding road has several small observation points along the way to the top.
From the top of Cadillac Mountain you will have a panoramic view of several different points in and out of the park. There are also several walking paths from the large parking area at the summit.
The Cadillac Summit Center provides restroom facilities, an information center, and a small gift shop.
For the more adventurous, there is a hike that goes to the top of the mountain – Cadillac Mountain North Ridge Trail.
The trail is 2.2 miles one way. It offers hikers spectacular views in all directions. The trailhead can be found approximately 3.5 miles south of the Hulls Cove Visitor Center on Park Loop Road.
**New in 2020: A reservation must be made for all cars who wish to drive to the top of Cadillac Mountain. Reservations cost $6 and must be purchased online at Recreation.gov.
Acadia National Park Hiking:
Acadia has over 150 miles of trails for all skill levels. They range from easy to difficult and vary from coastal hikes to lake and forest hikes.
3 Challenging hikes in Acadia:
These three hikes include ladders, rungs, and rock scrambles. The Beehive and Precipice Trails also have some exposed areas and narrow cliffside sections making them not only strenuous but dangerous for those that are not experienced hikers.
1.Beehive Trail (1.4 miles)
2. Precipice Trail (2.5 miles)
3. Beech Cliff Ladder Trail (2.2 miles)
The 6 best hikes for families:
1.Jordan Pond (3.3 mile loop)
2. South Bubble (1-2.5 miles out and back)
3. Wonderland Trail (1.3 miles out and back): Go at low tide to explore the tide pools.
4. Flying Mountain (1.5 mile loop)
5. Great Head (1.7 mile loop)
6. Gorham Mountain (2 miles out and back)
The Top 10 Things To Do In Acadia National Park
These 10 attractions are the best non-hiking attractions in the park. They are all perfect for someone who just wants to take in a good view or are unable to hike longer distances. This is also a great list for those who have limited time but want to take in the best sights of the park in a short amount of time.
1.Cadillac Mountain – Panoramic views on a clear day
2. Thunder Hole – It is said to be best 2 hours before high tide, so check the tide schedule before planning your visit.
3. Bass Harbor Lighthouse – Built in 1858, it is the only lighthouse on Mount Desert Island
4. Jordans Pond – Don't forget to stop at the restaurant for their famous Popovers
5. Schoodic Peninsula – 6 mile one way loop around the peninsula (do not skip!)
6. Drive the entire Park Loop Road
7. Sand Beach – A gorgeous beach spanning 290 yards. There is a parking lot with a restroom and hiking trails that leave from the far end of the beach.
8. Little Hunters Beach – Look carefully for a stairway on the left side of the road that leads down to a quiet and secluded pebble beach.
9. Otter Cliffs – 0.7 miles past Thunder Hole and just after Monument Cove, you will see the 110 foot high Otter Cliff.
10. Schoodic Point – Watch the crashing surf from the open granite headlands. A great place to sit and have lunch.
Check out these items for additional information on Acadia National Park?
Acadia National Park Waterproof Trail Map
Field Notes: National Park Series
Is Acadia Park worth visiting?
I knew that we would love Acadia National Park but I was not prepared for just how beautiful it is.
Acadia is like no other national park that we have ever been to. The coastline and ocean views from both the car and the trail summits are exceptionally beautiful and offer something different than other parks.
Although it is a bit of a drive, I would highly recommend checking out the Schoodic Peninsula. With less crowds in this part of the park, it offers a more quiet and peaceful atmosphere. The natural beauty in the area is awe inspiring.
You will not be disappointed with a visit to Acadia National Park. I highly recommend that you go. It is definitely worth visiting at least once in your lifetime.
As for us, we can't wait to plan another trip back.
If you enjoyed this article, check out these other travel posts to fulfill your wanderlust:
Visit North Cascades National Park With Kids
The Best Camping Gifts Under $50
The Ultimate Guide To The Best Gifts For People Who Love To Travel