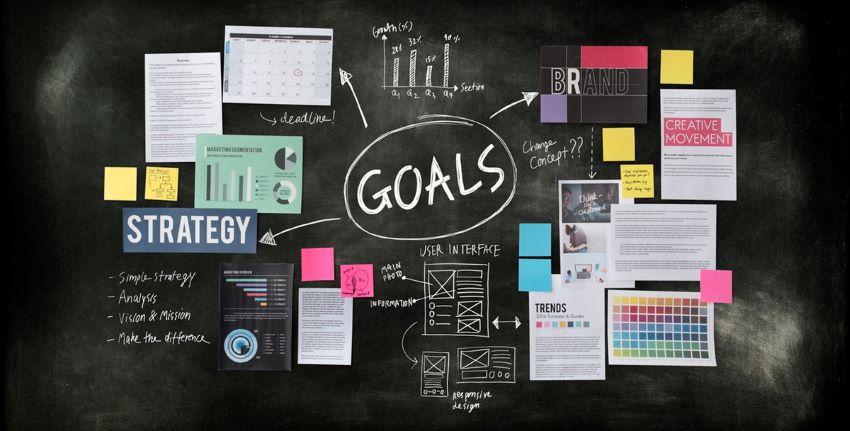 5 Rules To Follow For Successful Goal Setting
5 Rules To Follow For Successful Goal Setting
Goal setting is a powerful resource that brings focus to our lives. It is a skill that allows us to take a hold of our future. Goals force us to analyze our existence and decide what we want to accomplish.

So where do you see yourself in 10 years? The dreaded question that most people don't really have a good answer to. I'm pretty sure that employers don't want the real answer in your head: "Lying on a beach on a secluded island with a margarita in hand" (am I the only one with that goal?!). This is a very common job interview question that you may have casually thought about but do you really know what you want your life to look like in 10 years?

I am not really one to make New Year's Resolutions and in the past have only occasionally set goals (in my mind) about things that I want to happen. I have learned over the years that daydreams and thoughts alone do not produce results. A big mistake that is made when setting goals is choosing to go after things that are not capitaving or inspiring enough. You are more likely to put in the time and effort to reach a goal if it is something that excites you.

Here are 5 rules to follow when setting

goals to help you achieve results

:
Evaluate and Reflect
Set goals, in writing, that motivate you
Set SMART goals
Make an Action Plan: Focus on the process, not the end result
Be Accountable

Evaluate and Reflect
In order to determine what goals you want to achieve you must evaluate and reflect on your life at this moment in time. Self assessment can help you determine your most important qualities, values,and virtues. It also allows you to see the areas that need improvement. Taking the time to look at your life and yourself as a whole can help you figure out what would bring you the most happiness and allow you to feel fulfilled.

Set Goals That Motivate You
A goal must be meaningful and important to you. If you lose or lack interest in the outcome of a goal, the chances of you really going after it and succeeding are slim. When choosing a goal you should ask yourself "why" it is significant to you. By answering this question, you will find your motivation.

It is also crucial to put your goals in writing. Writing your goals down, whether it be on a piece of paper, a journal, or a gigantic whiteboard for everyone to see, makes it more real and concrete. Instead of a verbal proclamation, writing a goal down makes you think about it more in depth. Having your goals visible is also a good idea and will provide you with a constant reminder of what you are working towards.

Set SMART Goals
What does the S.M.A.R.T acronym stand for?
S – Specific
M – Measurable
A – Achievable
R – Relevant
T – Time Bound

S – SPECIFIC: Your goal must be clear and well defined. You should ask yourself the following questions:
What exactly do you want to achieve?
Who is responsible for it?
What steps will you take to achieve it?
M – MEASURABLE: You need to be able to measure your progress in order to determine your level of success. If you do not have a measurable goal, how will you know that you have crossed the finish line? Making a quantitative goal includes adding in numbers and benchmarks.

A – ACHIEVABLE: The goal that you set should be realistic yet challenging. Setting a goal that is too easy to attain would be meaningless and setting a goal that is unattainable would be futile. The process that you take to obtain a goal should leave you feeling empowered not defeated. If you choose goals that are challenging you may come across some bumps in the road but overcoming those obstacles will only make your achievement that much more monumental.

R – RELEVANT: A goal should be directly correlated with the direction in which you want your life to go. Relevancy allows you to focus and find the "why" behind your goal.

T – TIME BOUND: Having a deadline for your goal is imperative. It again gives you a way of measuring your progress and more importantly lets you know when to pop that bottle of champagne!

Make an Action Plan
An Action Plan is a step by step plan to get things done. It is the blueprint of your goal. An Action Plan defines every single step you need to take. Having specific intentions and strategies in place will make your goal appear less complicated and more attainable.

I think one error people make with goal setting is focusing too much on the outcome and end result. It is equally, if not more, important to put your focus on the process of getting there. With a process focused mindset we are able to find intrinsic value in the activity. The process becomes the reward. When you think this way, you are able to find enjoyment in the small successes.
Be Accountable
There are some people who have really good intrinsic motivation and then there are the rest of us. If you need that extra push then you should tell someone else about your goal – a partner, a friend, or a family member. When you share your goals you will be more inclined to exhibit accountability and strengthen your commitment.
It is one thing to wish, hope, and dream for something to happen and another to actually take the action needed to make it a reality. Writing good goals may appear to be time consuming but they are worth it. They will give you focus and direction. Goals that you set for yourself, whether personal, financial, or social should challenge you. They should make you feel like you have something in your life to strive for. Having goals reminds us that we are in charge of our lives and that we can shape our future.