The 12 Best Financial Podcasts To Listen To In 2020
The 12 Best Financial Podcasts To Listen To In 2020
A great way to expand your knowledge or just to pass the time is to listen to financial podcasts. These digital audio files provide a wealth of information. And you can find podcasts on pretty much any topic that you are looking for.
It is to no surprise that Personal Finance Leaders have joined in to provide an invaluable source of information and knowledge. Navigating your own personal finances can sometimes be complicated and hiring a financial planner is not always in the budget. Listening to financial podcasts is a convenient and less costly way to learn, get advice, and receive guidance to drive you towards your goals.
These Are The Top 12 Financial Podcasts of 2020:
Disclosure: Our Life On FIRE is a participant in the Amazon Services LLC Associates Program. Some of the links below are affiliate links, meaning we will earn a commission if you decide to make a purchase through our link, at no additional cost to you.
THE BEST FINANCIAL INDEPENDENCE PODCASTS
Choose FI: Hosts Jonathan Mendonsa and Brad Barrett inspire their listeners to pursue FIRE (Financial Independence Retire Early).  They interview guests in the FIRE community to give you different perspectives on the FIRE movement.  Jonathan and Brad also share the tactics that they have used to reach FI in order to help you reach your financial goals.  
Bigger Pockets Money: Scott Trench and Mindy Jensen interview weekly guests to discuss their journey to FI.  Their guests give actionable financial advice to help their listeners earn more, spend money smarter, and grow their wealth.  
Afford Anything: "You can afford anything, but not everything." Paula Pant discusses real estate investing, index investing, and financial independence. She interviews a diverse array of people to find out how they work to improve their finances and lives.  
THE BEST REAL ESTATE PODCAST
Bigger Pockets: Brandon Turner, David Greene, and Joshua Dorkin present advice from investors and real estate professionals.  They not only talk about the success stories but also the failures and lessons learned along the way. Their mission is to educate their listeners on all aspects of real estate and real estate investing.  New episodes are released weekly on Thursdays.
THE BEST ENTREPRENEURSHIP PODCAST
The Tim Ferriss Show: Author of "The 4-Hour Workweek," Tim Ferriss interviews world class performers from all walks of life including Jamie Foxx, Brene Brown, LeBron James, and Mr. Money Mustache.  His informal interviews feel like conversations with friends. During this time he is able to find out what makes each of his guests who they are. Tim also offers invaluable lessons and insightful advice on how to maximize your potential.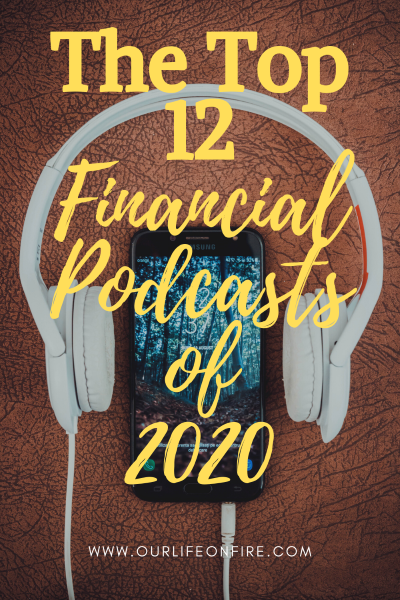 THE BEST PERSONAL FINANCE, ASSET ALLOCATION, AND TAX OPTIMIZATION PODCASTS
Sound Investing:  Paul Merriman is the founder of Merriman Wealth Management, a Seattle based investment advisory firm.  In his retirement he continues to work to educate and empower investors from all stages of life. He is able to guide and offer advice to the young and old, the beginner and the experienced investor.  
Paul has written several books including "Financial Fitness Forever: 5 Steps to More Money, Less Risk, and More Peace of Mind" and "Live it up Without Outliving Your Money."  He has been a guest speaker at conferences, has led over 1,000 investor workshops, and contributes weekly articles to Marketwatch.com.
Paul Merriman's Podcast "Sound Investing" is driven by his passion for financial education. A new episode is released every Wednesday.
Mad Fientist: The Mad Fientist focuses on "How to Optimize Your Journey to Financial Independence."  The podcast contains discussions and interviews with like-minded people. It focuses on discovering their techniques and strategies that they have used to achieve FI. The Mad Fientist has a variety of fascinating guests who are able to add a lot of insight and thought provoking conversation. 
In addition, you should check out the Mad Fientist blog. Here he gives you access to information on tax avoidance and advice on investing. You will also find spreadsheets and software tools that you can use to track your financial progress. The focus of the blog is to help those who want to gain financial independence early on in life with the hopes of retiring early.
Money For The Rest Of Us: David Stein has advised and managed assets for financial institutions and financial planners.  He has held roles as Chief Investment Strategist and Chief Portfolio Strategist at Fund Evaluation Group, LLC, a $70 billion investment advisory firm. 
David has brought a community of self managing investors together with his podcast. He believes that you don't have to be an expert when it comes to investing as long as you are making smart and informed decisions. The podcast includes information on how financial institutions, money, investing, and the economy work. Also, it focuses on how to live your life without having to worry about these issues. A new episode is released every Wednesday at 12pm EST.
If you enjoy David's podcast you should also check out his new book, which was published in October 2019: "Money For the Rest of Us: 10 Questions to Master Successful Investing."  
Dough Roller: The mission of the Dough Roller is to help people make sense out of the complicated world of finance. Rob Berger touches upon a range of different topics in the realm of finance, investing, and money management. He is able to present these subjects to you in a simple and relatable way.  He offers practical information and thoughtful analysis. 
The Stacking Benjamins: Hosts Joe Saul-Sehy & OG produce their podcasts from Joe's mom's basement.  It is here that they interview guests and regular contributors such as Afford Anything's Paula Pant, among others. This podcast offers a mix of current events and investing. Discussions happen in a laid back, relaxed format with a lot of humor thrown in.  New Podcasts are released every Monday, Wednesday, and Friday.  
Listen Money Matters: Andrew and Matt discuss money, real estate and investing.  If you hate to be lectured about finances from the out of touch one percent then you will enjoy their uncensored, down to earth approach. They are able to offer a different perspective. Also, they feature a new beer every week, which in our opinion is a fun way to start a show.  
Radical Personal Finance: Joshua Sheats is a financial planner. His goal is to provide you with the resources and information you need to go from a place of zero knowledge of personal money management to the equivalent of a Master's Degree in finance.  Joshua brings forth a great mix of philosophical and practical discussions as well as out of the box ideas.
Happy Listening!
What are some of your favorite financial podcasts? Let us know in the comments below. We are always looking for new forms of inspiration.
Looking for more inspiration and motivation to reach Financial Independence? Check out the Top 6 Personal Finance Blogs to Inspire You to FIRE