47 Easy and Cheap Meals That You Can Make Today On A Tight Budget
47 Easy and Cheap Meals That You Can Make Today On A Tight Budget
Are you looking for easy and cheap meals that you can make today on a budget?
I sometimes feel like I am stuck in a food rut where I keep cooking the same things over and over again. Or I find myself staring at the fridge at 5pm, unsure of what to make for dinner. Sound familiar? Please tell me that I'm not the only one.
But I do have to say that I am the master of throwing a meal together using whatever ingredients we have. And it usually comes out pretty darn good.
But life is so much easier when I don't have to think about what to make or have to come up with a last minute meal.
It's nice to have that recipe arsenal of budget friendly family meals at the ready for when life gets busy. Which is why I have compiled this list of cheap, easy meals that you can make today.
These recipes use ingredients that you most likely already have on hand and that don't cost a fortune.
---
Some of the links below are affiliate links. As an Amazon Associate we will earn a commission from qualifying purchases if you decide to make a purchase through our link, at no additional cost to you.
How to have a stress free week of cooking
I've also found two great ideas to decrease stress at mealtime:
Meal Plan
Meal Prep
These two simple strategies will get you organized, decrease the mealtime stress, and get dinner on the table fast.
Meal Planning
Planning your meals ahead of time can be beneficial in many ways. Already knowing what you are going to make for the week makes it easier to come up with a shopping list. And having a shopping list, makes that trip to the grocery store so much faster, saving both time and money.
The best plan of action is to meal plan for the entire week and make your grocery shopping list at the same time.
Deciding which meals or recipes you will make on each day of the week will take the guesswork out of your day.
Going in with a plan and being organized gives you more time for the other things that are more important in your life.
Easy Meal Prep Ideas
Meal prepping will help to decrease the time spent making each meal as well as cut down on cleanup time, which lets face it, is everyone's least favorite part of cooking.
If you have planned out your meals for the week, made a grocery list, and bought all of your ingredients then it's time to meal prep.
A great meal prep idea is to find a day that is not too busy and use this day to get as much prepped for the week as possible.
What can you prep ahead of time?
Wash and cut all the vegetables that you need and put them in containers labeled with which meal it goes with.
Prep and marinate your meats
Cut all large fruits so that they are ready to snack on – Pineapples and Melons
Put your leftovers into individual containers to grab the day.
Make ahead freezer meals are also great to prep, freeze, and have ready to put in the oven.
Yes, meal prep takes time but it also makes cooking your actual meals much faster with less cleanup. I always say that I'd enjoy cooking even more if I had a sous chef, which isn't going to happen so this is the next best thing.
How "Make Ahead Freezer Meals" Can Save You Time:
Have you ever made freezer meals?
I don't do it very often but am always happy when I can take a meal out of the freezer to defrost in the morning and then pop into the oven at night.
A quick tip: If you are going to take the time to make one meal that is freezable (think casserole, lasagna, etc) then why not make two and freeze one to cook at another time?
Easy, Cheap and Frugal Recipes For Any Budget:
Whether you are looking for cheap meals for large families, budget friendly healthy meals, or just an easy prep recipe for a quick dinner, you are sure to find something on this list to try.
The recipes range from vegetarian, vegan, and gluten free, to comfort food. The one thing they all have in common is that they are simple recipes that use readily available ingredients.
** Recipes that we make and love
Quick and Easy Breakfast Ideas
See how to make easy Keto Egg MUffins for a grab and go breakfast that you can meal prep. This method (with variations) makes the best breakfast egg muffin cups recipe.
This Cinnamon Apple Steel Cut Oats Recipe is a simple 5-ingredient dish that is largely hands off. After cooking in the crockpot overnight, you can top it however you wish. Simple, wholesome, and budget friendly.
Liven up your morning with this Chunky Monkey Quinoa Breakfast Bowl. The combination of creamy peanut butter, sweet bananas, and rich dark chocolate will send your taste buds into overdrive. It's super nutritious too!
These healthy Banana Pikelets are super easy to make with just a handful of ingredients you probably already have at home. They freeze well and make excellent budget and family friendly breakfast, lunch, or snacks.
Learn how to make the perfect overnight oats that are loaded with flavor.  I love all of the different mix-in options to try each day of the week.  Plus, overnight oats are the best time saver for those quick breakfasts before leaving the house.    
Low Cost Lunch and Brunch Recipes
This absolutely delicious chicken salad was inspired by the Napa Almond Chicken Salad at Panera. It is easy to make at home and tastes so much like the restaurant version.
This Lazy Falafel recipe is super easy to make. It will take up less than 30 minutes of your time and tastes every bit as delicious as the traditional version.
With less than 10 ingredients, this recipe is easy, fast, and simple to put together. Delicious and nutritionally dense, this Raw Spicy Kale Salad Wrap makes a great lunch or dinner.
We make frittatas every week and eat them for breakfast or brunch. They are so simple to make and once you have the method down, you can add in whatever meats and veggies that you want. It's a great way to clean out the fridge and get a meal on the table fast.
A delicious protein rich recipe that is light, healthy and budget friendly. It only takes 20 minutes to make and is great for either lunch or dinner.
This oven baked steak and arugula sandwich is like a baked grilled cheese (but better!). This sandwich is a great high protein option for lunch or dinner. It can be made with leftover steak and tastes even better than the Panera version. Nutrition facts included!
A vibrant, beautiful tart packed with flavor and completely gluten free!
Simple Soups, Salads and Side Dishes
This easy and budget friendly meal is full of flavor. You will love that it can be made ahead of time, is a one pot recipe, and is great for those make ahead freezer meals.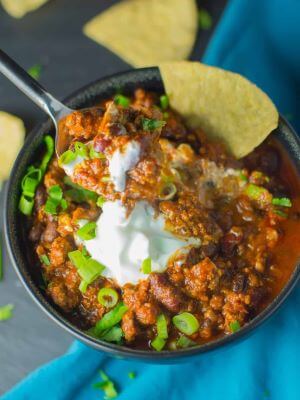 Poor Man's Stew is a budget friendly meal made with ground beef and costs less than $2 per serving! It's very simple to make and Whole30 and Paleo compatible. This recipe can be made in the Slow Cooker, Instant Pot, or Dutch Oven.
This healthy and easy to make Italian soup has been made into a simple Instant Pot recipe.
Amazon picks to simplify your cooking:
This chickpea salad is a tasty, healthy, and cheap make ahead dish that you can serve as a high-protein lunch or side dish. It can be made in about 5 minutes when using canned chickpeas.
This Mediterranean inspired Cannellini Bean Salad is made with canned beans and a few other flavorful ingredients. Ready in 5 minutes it is the perfect no cook Vegetarian side dish for gatherings and busy weeknights.
This refreshing sweet and salty Watermelon Feta Salad is a perfect summer salad to serve for backyard parties or BBQs. Made with just 5 ingredients and ready in 15 minutes.
Quick, easy and versatile – This Sauteed Spinach Recipe is a must have in your recipe repertoire. Just combine the spinach and spices for a tasty side dish. It is ready to eat in about 10 minutes.
These delicious vegan German Potato Pancakes or Kartoffelpuffer are crispy on the outside and tender on the inside. They only require 3 staple ingredients and 30 minutes to make. They are perfect for a quick lunch, dinner, or side dish that everyone will love.
This non-mayo slaw has amazing flavor and is really easy to put together. Prep the veggies and the dressing ahead of time, store separately then just stir it all together before serving.
Easy and Cheap Meals For Dinner
Only 3 ingredients! When you bite into the juicy Air Fryer Chicken Drumsticks with Whiskey Barbecue Sauce you will fall in love. Tender chicken, cooked to perfection.
Making a whole chicken in your crockpot is easier than you think. This lemon garlic whole chicken is both delicious and comforting. Leftovers can also be repurposed in a variety of ways.
This is a foolproof weeknight dinner that requires no continuous stirring or babysitting. This creamy and flavorful risotto is easy to make and something that everyone will enjoy.
The iconic Filipino Chicken Adobo can easily be turned into a low-carb and gluten-free chicken dish. It's quick and easy to make plus it gets more flavorful after a day or two so it is great for leftovers.
Chili Garlic Noodles is a very simple and tasty Asian noodle recipe that needs just a handful of basic ingredients and is ready within 30 minutes.
Rich and creamy mac & cheese topped with crunchy bread crumbs. This indulgent dish brings comfort food to your table in less than an hour.
These pizza puffs are perfect for the whole family as a meal or snack. So good and easy! Made with simple ingredients and kid approved.
Homemade Teriyaki Chicken Stir Fry is an easy 30 minutes weeknight dinner made with the best sauce ever. It satisfies the "take out" craving and is loved by the whole family.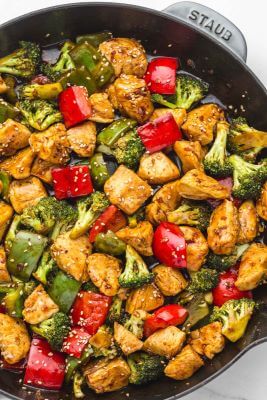 This Carribean Creole Roast Chicken is so easy – just give it a quick marinade then bake it in the oven.
By adding bacon (or sausage) onion and spices, you will be able to transform canned beans into a pantry dinner worth getting excited about. And dinner can be ready in only 30 minutes.
This is the best cream cheese pasta recipe using just a few ingredients and it is ready in about 15 minutes.
A quick and easy dal with spinach that needs no curry powder or coconut, yet it is full of flavor with a creamy texture.
This chicken fried rice is so quick and easy. It is also a great way to use up leftovers.
A super easy dump-and-bake meatless meal for the family. This Lemon Chickpea and Rice Casserole is a healthy, hearty, vegan, gluten free, and allergy free dinner idea. Dairy-free, creamy, and zesty, this casserole recipe can be made ahead of time, is freezer friendly, and a comforting weeknight meal everyone will love.
For a quick and easy meal, shrimp is our go to. Shrimp take a minute to prep but cook really fast. This recipe can be made even easier by meal prepping your ingredients ahead of time.
Amazon picks for easy cooking and meal prep:
Prepare chicken enchilada filling in the Instant Pot then assemble and bake in the oven. This easy make-ahead meal can be prepped in advance and even frozen for later use.
Chickpeas are cooked in a super flavorful yet healthy vegan kung pao sauce. This dish is really easy to make and is better than takeout!
This Mexican recipe is made using basic pantry ingredients. It is a quick, easy, and inexpensive recipe that is vegetarian with a vegan option.
Baked Feta Pasta is a popular recipe that is not only easy, it's affordable and delicious.
We love us some tacos in this house and use our slow cooker to make the pork. It's so easy and convenient to put everything into the slow cooker in the morning and forget about it until dinner time. Crisp the meat in the oven before serving. It's so easy!
Simple Budget Friendly Desserts
A light and fluffy vanilla sponge cake is paired with a vanilla buttercream and jam.
This is a recipe that was given to me by a friend. She made them for us the last time we visited her and my mouth is watering just thinking about them. They are rich and chocolatey but have a little bit of sea salt for that sweet and salty mix that I love. Try them – you will not be disappointed!
These homemade Lemonade Popsicles are super refreshing. With just three ingredients they are cheap and easy to make. Perfect to cool off on a hot day.
Easy Homemade Snacks
Up your snacking game with these Smokey Air Fryer Chickpeas. They are quick, easy, healthy, and a little bit addicting. No Air Fryer? No worries, an oven method is included too!
Take your edamame to the next level by adding grated parmesan cheese, which crisps up as they bake in the oven. Best if eaten the same day…which trust me, won't be a problem.
These no bake Cookie Dough Bites will satisfy your sweet tooth. The recipe is egg-free, they take less than 5 minutes to make, and will last in the freezer for months.
Final Thoughts On Creating Budget Friendly Family Meals
Don't let the thought of cooking and getting a healthy dinner on the table overwhelm you.
The best way to beat the dinner time stress is to Meal Plan and Meal Prep. Using these tools will help you to be more organized and you won't have to stand there staring into the fridge at 5pm wondering what's for dinner.
Another tip is to invest in the tools that will make your life easier. Small kitchen appliances such as the Instant Pot, Slow Cooker, and Air Fryer may make cooking a little simpler for you. By using these gadgets you will have less time spent standing at the stove and it will create more free time for you to take care of the other important things in your life.
I hope you were able to find some new recipes that you love.
  And if you have any easy and cheap meals that you keep in your repertoire for those busy days, put the recipe in the comments below.  I'd love to hear from you and am always looking for new recipes to try!
Related Articles On How To Stick To A Budget and Save Money:
How to successfully create a budget today
Frugal living tips that make a big impact
What you can do in one month to save money and transform your finances
Pin It For Later: