Visit North Cascades National Park With Kids
Visit North Cascades National Park With Kids
Making a trip to North Cascades National Park with kids will provide your family with an unforgettable experience.
Traveling with kids can sometimes be a challenge. The interruption in naptime, long travel times, and just the general unknown. There seems to be a lot more planning that needs to be done when traveling with a family, as well as a whole heck of a lot more stuff to bring along .
But taking that family vacation is worth it. You will make lifelong memories for both you and your children.
Since travel is a bit limited at this time we have decided to jump into our 5th wheel and embark on an indefinite U.S. Road trip. First Stop: North Cascades National Park.
Camping (or glamping) with your family not only allows you to be close to nature and experience all that it has to offer but it is also a very cost effective way to travel.
Why visit North Cascades National Park?
We have been to 10+ US. National Parks (so far!) and North Cascades is one of our favorites.
This national park was the first stop on our cross country roadtrip . We had been there in the past but this visit was just as special and enjoyable
North Cascades National Park is an underrated park with pure, unadulterated beauty. When visiting, you can't help but be in awe of the green conifer clad mountain landscape and the blue glacier fed lakes.
It is often referred to as the American Alps because of it's snow covered mountain peaks.
Another reason we love this park is because of the feelings of peace and solitude that you get when visiting.
Unlike many other national parks, it is one of the less visited, despite its size. There were only 38,208 visitors to North Cascades National Park in 2019 versus 4.02 million visitors to Yellowstone.
You won't find the big, busy attractions here which will also leave out the crowded, hard to find parking at trailheads.
Also, you do not need to pay a fee or need to show a National Park Pass to enter the park.
5 Facts About North Cascades National Park:
North Cascades became a national park on October 2, 1968.
Good Mountain is the tallest mountain, standing at 9,220 feet tall.
More than 300 glaciers can be found in the park which is more than any other park in the lower 48 states.
Animals found living in the park include gray wolves, mountain goats, grizzly bears, black bears, river otters, wolverines, cougars, black tailed deer, marmots, moose, bald eagles, lynx, and bobcats.
18 miles of the Pacific Crest Trail passes through the South Unit of the park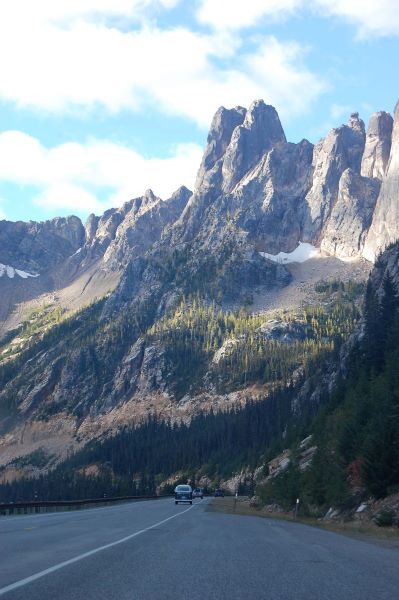 Getting to North Cascades National Park
North Cascades National Park is located 115 miles northeast of Seattle. The closest airport is the Seattle Tacoma International Airport.
The park can be accessed from State Route 20, which is also known as the North Cascades Highway. From the east, this highway starts at Burlington, WA and intersects in the east with State Route 153 in Twisp, WA.
The State Department of Transportation closes a portion of State Route 20 in the winter. The section of road that is closed is between Ross Dam Trailhead and Lone Fir Campground.
Driving an RV or trailer in North Cascades National Park
We have a 32 foot 5th wheel (total vehicle/towing length of 48 feet) that we have been using to complete our cross country road trip.
We entered North Cascades National Park from the west and drove through the park, exiting on the east side.
The west side of the park is an easy drive.
The challenges that you will find on the east side of the park are due to the mountainous terrain. There are a lot of uphill and downhill sections so make sure you are prepared with good trailer brakes.


North Cascades National Park Weather:
As with most of the Pacific Northwest, you can expect a good amount of rain and snow in the winter months.
The best time to visit the Cascades with your family is from June to early October. It is during this time that you will find the warmest, driest weather that is best for hiking, sightseeing, and camping.
The months of September and October will also give you the opportunity to see the beautiful fall colors as the leaves change.
Between the months of April and September, daytime temperatures can range from 50 to 80 degrees. This is a wide range but the temperature will vary widely depending on what elevation you are at.
You should always be prepared for rain and cooler temperatures when in the Cascades.
Where should I camp in the North Cascades National Park?
There are many different choices for camping, depending on if you want to be in the park and close to trails or in the backcountry, if you have an RV or a tent, etc.
There are options for everyone.
Campgrounds in and around the park include:
Colonial Creek Campground
Sahale Glacier Campground (backcountry permit required)
Big Beaver and Little Beaver Campgrounds (Boat-in)
On this trip, we chose to stay at Newhalem Campground. It is a large campground with three different loops that is able to accommodate RVs and trailers of all sizes.
They even offer family sites (different than group sites) which have extra parking and room to roam.
Despite there being a lot of RVs and trailers at this campground it is peaceful and quiet so don't be discouraged to stay here even if you are a tent camper.
The campsites at Newhalem Campground are surrounded by trees and private.
We also love that it is close to a lot of family friendly hiking trails, some that are within walking distance of your campsite. You can even walk to the town of Newhalem and the Gorge Powerhouse.
The best hikes for families in North Cascades National Park
River Loop Trail: 1.8 miles loop
Trail of the Cedars: 0.3 mile loop
Ladder Creek Falls Trail: 0.4 mile loop
Happy Creek Forest Walk: 1.3 mile out and back
Thunder Knob Trail: 3.6 miles out and back
Gorge Overlook Trail: 0.5 mile loop
Rainy Lake Trail: 2 mile out and back
Rock Shelter Trail: 1.8 mile out and back
Blue Lake Trail: 5.3 miles out and back
Cascade Pass Trail to Sahale Glacier Trail: 7 – 15 miles out and back
What to see on the east side of the Cascades
The terrain on the east side of the Cascades is vastly different than the west side. You will notice a point when you leave the tall green trees behind and enter the dryer climate.
If you are driving through and looking for a place to stop and stretch your legs, two places come to mind.
The first place is in the town of Mazama, WA. In this small, unassuming town, you will find The Mazama Store.
The Mazama Store is a family run general store that sells "a little bit of everything good."
I highly recommend that you stop at The Mazama Store to grab some baked goods or a cup of coffee. You can also buy a beer and they will give you a glass to sit outside on their patio to enjoy.
The store is filled with local, homemade, natural and organic goods.
The second place to stop is the town of Winthrop, WA.
Winthrop is a charming Old West themed town that offers small local shops, restaurants, coffee shops, a brewery and a winery. And if you are there on a Sunday between Memorial Day and Labor Day they even have a farmers market.
In the winter, Winthrop also offers more than 120 miles of groomed trails for cross country skiing.
Top 10 things to do with kids in North Cascades National Park
If we had to narrow it down to just 10 things to see and do in the North Cascades with children, this would be our list:
Diablo Lake Overlook
Rainy Lake Trail
Washington Pass Overlook
Ross Lake Dam
Ladder Creek Falls Trail
Trail of the Cedars Nature Trail
Steam Train in the town of Newhalem
Gorge Creek Falls
Cascade Pass Trail to Sahale Glacier Trail (for the older kids)
Drive the entire North Cascades Highway
Day Hike Packing List for Families
What should you bring on a day hike with kids?
There are a lot of hiking essentials that should be in everyone's backpack and a few extra things to remember to bring when you have kids.
Sunscreen: Getting a sunburn is not fun. Having a kid with a sunburn is really not fun. Don't forget the sunscreen!
Flashlight or headlamp: You never know when you might take a wrong turn or have a slower than expected hike, especially with kids. You don't want to be out in the woods in the dark without a light.
Small First Aid Kit: Or at least a few bandaids. Kids fall….all the time….Be prepared for a few boo boos along the way.
Trail Map or Trail App: Getting lost is never fun. Most trails that are geared towards families are well marked but the occasional one is not. Having a map or app that allows you to figure out exactly where you are is really helpful and adds a little bit of security when you are hiking with kids. *Tip: Don't have a map or app to use? Take a picture of the map at the trailhead with your phone so that you can refer to it as needed.
Plenty of water and SNACKS. If you have kids, DON'T FORGET THE SNACKS. I should probably put this on the top of the list of hiking essentials for families. If you have kids, you know what I am talking about.
Check out these items for additional information on The North Cascades National Park
Is North Cascades National Park worth visiting?
Absolutely!
It is one of the lesser visited parks making it perfect to avoid crowds. The North Cascades definitely falls under the radar, despite being a very beautiful and picturesque place.
This is actually one of our favorite national parks and place to visit in WA. There is something about the peaceful, quiet, atmosphere that draws us in and makes us want to return.
Planning a visit to North Cascades National Park? – Pin For Later