Our Path to Financial Freedom
Our Path to Financial Freedom
Our Life on Fire was created for us to track our progress as well as show you that even without a financial background that you too can take the steps towards financial freedom. All you need is a little direction and a lot of drive. We'd also like to give all of you a little glimpse into our lives and share things that are important to us, including family, wellness, travel, and living a balanced lifestyle.

We have always been very aware of the state of our finances but did not start looking at it seriously until 2015. It all started when twice a week we found ourselves making a 6 hour drive to a travel contract for work. To pass the time we listened to a lot of Dave Ramsey. While we did not feel that his particular method worked for us, we found the idea of screaming "we are debt free!" appealing. Coincidentally it was in 2015 that we bought our first house and set a goal to pay it off in 2 years as well as finish paying off student loans.

Since that time we have read several books and listened to a countless number of Podcasts that aided our drive to be debt free and make our money work for us. We knew that this is something that we wanted to do but we also did not want to sacrifice the things that we enjoy in life and be restricted to eating "rice and beans." And trust us, this is not something that you have to do! However, it is beneficial to be smart about your spending. Also, having a financial plan and a goal is a must.

Over the past 4 years we have learned a lot about investing, saving for retirement and side hustles. We often say that we wish we had the knowledge that we have now when we were in our 20's and that we wish we had started this quest sooner in life but better late than never, right? Since we have had a "late start" in this financial game we have the hope of retiring in our 40s.
In 2004 Patti clearly remembers having a conversation about saving for retirement with a co-worker. At that time she was working at her first professional job and making a decent amount of money. At the age of 23 she was putting 10% of her paycheck towards her 401k. Patti thought that she was doing her part to save for retirement but she didn't want to put too much towards it because at that age there are so many more fun ways to spend your money. Her co-worker, who was in her 40s at the time, urged her to put more money towards her 401k, simply stating that she needed to save more money now. Of course, being 23 and a former broke college student, saving for retirement was not at the top of her list and she thought that she had plenty of time to save.
Patti was wrong. If she had saved $1000 per month towards her retirement, at the age of 23, she would have over $1 million by the time she reaches 53 years old, without having to do anything else.
We now know that it is one thing to give advice and another to look at the numbers so here they are: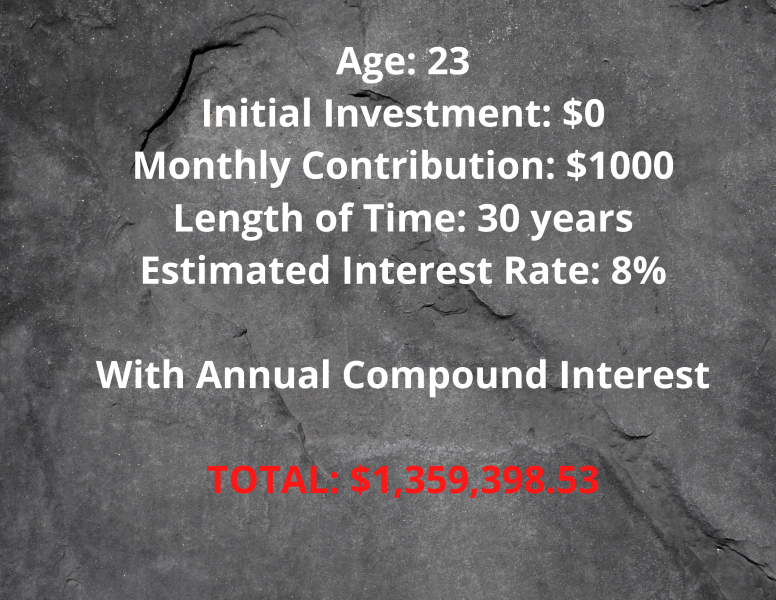 If only Patti had listened. So for all of you 20 and 30 year olds reading this, we can't stress enough that you can take advantage of so many different strategies to put yourself in a better financial situation. Trust me, you will thank us later.

Now that we are on this path to financial freedom there's no turning back. Once you start meeting your goals and seeing your net worth increase over time, you get hooked.

Another topic that we find ourselves pondering quite often is how to live a balanced lifestyle. Everyone's idea of living a happy fulfilled life is different. Some people are content with their jobs, their extracurricular activities, and health but what if you are not? What would make you feel more accomplished and how do you obtain a life that you are at peace with?

Our goal is to figure out how to live life to the fullest, on our terms, and experience true personal freedom.